We've saved you hours, days or weeks when coding admin panels. Now let's save you time when planning and designing admin panels.
Think about it - when working as a freelancer for a client, or inside multi-disciplinary teams… a real problem for the dev is knowing what to code - making sure that's the result wanted by all parties. A considerable amount of time is spent in back-and-forths, determining that what you're building should look and work a certain way or polishing the result to match the design (when the design could have been what Backpack already offers). We used to make this mistake too - we were spending precious developer-time for things we could have been done using designer-time, manager-time or even client-time.
No longer. That's why we've created this official resource, the Backpack Figma Template, that will get you everything that Backpack offers, as design components, for you to move around using drag&drop. We've turned all of Backpack 4.1's HTML components, fields, column, filters, operations (everything!!!) into Figma designs, so that it's dead-simple to design as close as possible to what Backpack already offers. Now you can easily prototype how the admin panel will look & feel, as a designer / architect / PM / client!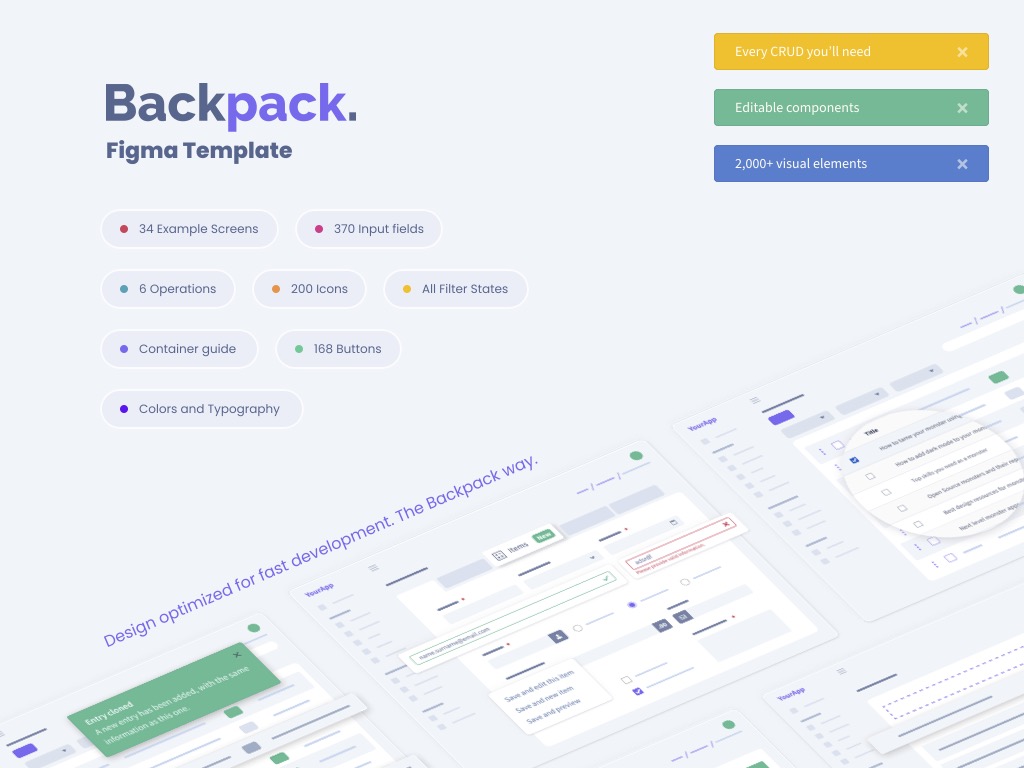 Think of all the ways you can save time using this one resource:
your designers can create designs using the same UI Kit the developer has on hand - the admin panel designs will be much faster to code;
your architects/designers can skip wireframing altogether - shave off an entire step in your process;
your clients can see and understand how their admin panel will look & work, before a single line of code is written; or even (gasp) play around themselves with drag&drop, to show what they want;
your developers can mock up functionality before coding it;
your project manager can use more of the designer's time, and less of the developer's;
your tester can finally determine that the admin panel looks & works as expected - an image is worth 1000 words;
Sure… depending on how your team is set up and what project you're working on... you might not get all the benefits above. But we're pretty sure that most teams are going to get some of the benefits. And at this price, we're sure even just benefit will make the Backpack Figma Template worth its price. We've been using it internally for a few months now, in various ways, and it really did help our teams work better on admin panels. It helped us A LOT, in fact. We're super-excited to make it available to you too, so that you also get this productivity boost.
Check it out here. It'Il only be discounted for a few days, while we consider it in beta (even though it's feature-complete) so if you want it, hurry up. If you encounter any issues, please email us at [email protected] - we're eager to hear what you think about it (good and bad).
PS. Would you rather use Sketch, InDesign, Illustrator, Photoshop etc.? We're in the process of converting this template to other formats. Please send an email to [email protected] and tell us what design software you prefer. It might already be ready, but not yet public.